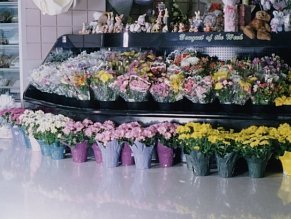 Amtekco's Low Profile All-in-one Floral Cases and Workstations Give Your Department Flower Power!


Flower power takes on a whole new meaning when you're talking about the ability to maximize profits in your floral department. Floral sales within grocery stores and supermarkets are increasing every year. Since 1986, sales have increased 109% and topped $166 million in 1994 alone. And, the majority of these sales are a result of impulse buying.


Amtekco's low profile Floral Cases and Workstations give you the power to optimize these impulse buying opportunities. Consumers can't resist the beautiful appeal and fragrant aroma of fresh flowers presented in stunning, eye-catching displays. Amtekco's multitiered floral cases allow you to merchandise fresh cut flowers, stems and bouquets as well as foliage, flowering and bedding plants more effectively. The cases focus the attention on the flowers and plants, make all of the selections highly accessible and keep your floral sales as brisk and fresh as your flowers.


Standard 3-tier configuration maximizes merchandising space and makes all selections highly accessible.